Here are some pictures of the Activation and Fate cards I made for "Dux Suecia"....
Inspired by the article in the TooFatLardies Summer Special 2012 about migrating Dux Britanniarum to other periods I have made a go for my favorite wargaming period, "Kalmar Union War" i.e. warfare in Sweden during the 15th century.
Kalmar Union War is my own designation of the decades, 1434-1471, of struggle for power over Sweden and the wars between Sweden and Denmark that dominated the Union at this time.
My main focus of this migration are the later parts of the period 1463-1471, starting with the imprisonment of the Archbishop Jöns Bengtsson (Oxenstierna) in 1463 to the Battle of Brunkeberg in 1471.
Sweden was almost continuously at war. Various factions either hurried favour with the Union monarch or rebelled against him. The result was a confusing series of wars between factions of noble houses vying for power while supporting or rejecting the Union King.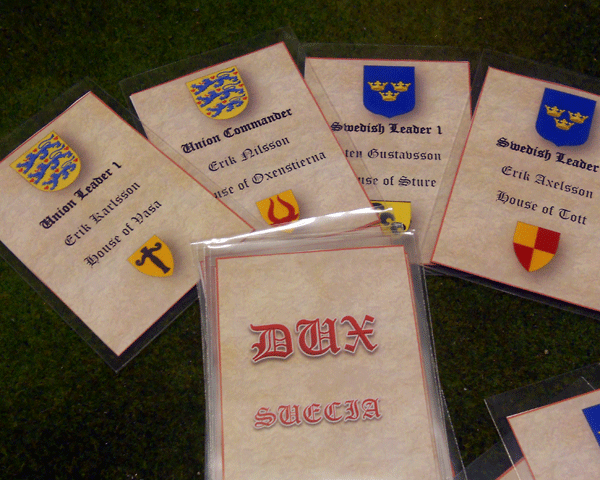 Sweden had never really implemented feudalism and the commoners, the 'Allmoge', had quite extensive legal rights and political agendas of their own. The Swedish 'Frälse'/nobles were a wilful lot and very keen on the King not getting too powerful. Efforts by the Union to extract more taxes and to modernize the country at the expense of traditional rights and privileges met with stiff resistance.
The Allmoge in each region, 'Landskap', roughly the equivalent of an English county, to a large extent made their own decisions and frequently found themselves fighting against the Allmoge of other regions.
The Union King, usually a Dane or German, responded to rebellions by sending an army bolstered by lots of mercenaries. He also always tried to "lure" Swedish nobles with theirs Allmoge over to his side. Rebellions could be very successful militarily, but infighting among factions meant that the country most often returned to recognizing a Union King after political compromise, treachery and/or the odd murder.
The perfect setting for some smal scale raid wargaming like in Dux Britanniarum:)
Of course the monday night game "Raid of Penningby 1466" was played using a first draft of Dux Suecia and we have decided to make some more playtest and run a small campaign to see how our small rules changes turn out. More about tha changes and last nights game in the AAR I´m working on...hope to have it finished untill the weekend....